Welcome to our website!
Kielhorn Im- und Export UG - international import & export offers you a wide range of the most versatile goods and products in a business to business environment.
Paints and lacquers



Construction materials and maschines

Laundry detergents / Household cleaners


Body care products

Car parts

Remaining stock



We will gladly take care of your individual wishes and build a lasting business relationship.
Feel free to learn more about our company and product range and let us make you an offer.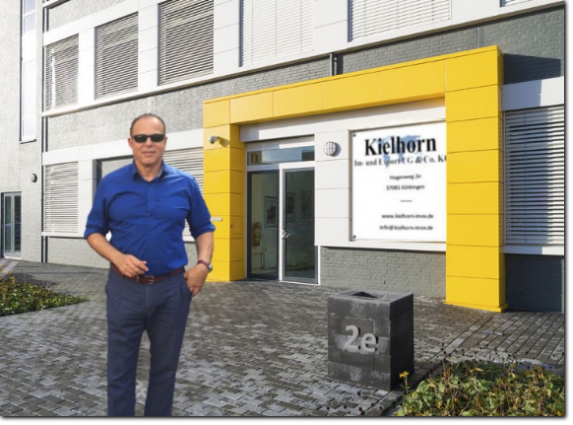 Adnan el Hato -
Managing Director of Kielhorn UG
Company headquarters of the in year 2003 created Kielhorn UG is the university town south of Lower Saxony: Goettingen. The Kielhorn UG is an internationally active trading company, specialized particularly on the constantly growing market in the approaching Near, Middle East and East Europe. Our references and sales partners are in all strategic commercial points of the regions.
For numerous products of well-known German branded articles the Kielhorn UG is the exclusive sales partner in the above mentioned regions.
Since 2014, we represent a well-known German maufacturer for the entire range of paints and varnishes in the Arab world.
The main business constantly exists in the segments:
wood glaze, Colors - and lacquers for the interior and exterior paint

Building materials, painting tools, and technical machines

Wash - and cleaning agents

Bodycare and care products

Car parts

in and sale of residual items
Apart from the classical intermediary function between manufacturers and end customers the Kielhorn UG offers constantly further services supplementing:
Procurement, purchase and sale of common commercial products

Completion of containerization, transportation of any kind

Tariff completion import/export

Presentations of companies in the desired area of distribution

Market observations in the desired area of distribution

Switching and company of business contacts

Fair agency for foreign companies in Germany
We are specialized in the needs of our partner companies and find the right solution for every requirement. Here is a selection of our reference customers:
__________________________________
__________________________________
KfZ Handel und Lackiererei
If you have questions or would like to place an order, please use the following form! We will get back to you as soon as possible. Or simply call us or send us a fax!
Im- und Export UG
Telefon: +49 (0) 551 820 82 57
Telefax: +49 (0) 551 820 82 58
E-Mail: info@kielhorn-imex.de
Website: www.kielhorn-imex.de